Honest Groove.cm Review – Groove Software Pricing & Bonuses
Groove.cm Review, Pricing & Bonuses (Update 2022)
Honest Groove.cm Review – Groove Pricing & Bonuses
Summary
LOTS of different digital marketing software apps with just ONE log in. Designed to help entrepreneurs start an online business without the need for expensive software. The best value for money digital marketing software around.
In this Groove.cm review I'm going to give you my honest opinion of the Groove.cm software as well as Groove the company. I've updated this Groove review for 2022 so you can get the very latest information and see what this amazing software can do for you.
I do actually own their Platinum Lifetime product (now unavailable but it has all the same features as the Pro plan) and I have used the software myself, so this Groove.cm review is based on actual usage, not just theory.
Since Groove is changing so fast, many of the Groove reviews out on the web are way out of date and the information they present is often quite useless. I'm going to try and keep this Groove.cm review up to date so it always has the latest information…
And as always, I'm not going to hold back on telling you the bad as well as the good.
What is Groove?
Groove or Groove.cm (previously know as Groovefunnels & Groovepages) is a new platform that combines lots of different software applications into ONE platform. It's specifically designed to help small businesses and individuals start, or grow, an online business.
It includes a webpage builder, a sales funnel builder, email marketing software, an affiliate marketplace, eCommerce store builder, membership site builder, blog creator, video hosting and a whole lot more. It's without doubt the most ambitious digital marketing software platform on the planet.
Here is a list of all seventeen Groove software applications as of early 2022. Alongside each Groove app are one or two similar apps provided by other companies that Groove can replace…
* The stared apps are not yet released but should be coming sometime this year
AND… as if that's not enough they've also hinted at other apps that may be added in future.
There are even plans for a Groove TV channel, although I think that will be some way off just yet. However, with so much bad news around they thought it would be a great idea to have a positive channel dedicated to helping people make a success online.
Who is Groove for?
Groove is aimed at new entrepreneurs who are looking to make money online, as well as those who already have an online business but are looking for ways to streamline their processes, save time, and cut costs.
Since Groove has so many diverse software applications, MOST online businesses will find Groove invaluable.
Typical users include :
New entrepreneurs and online business

Groove operates a 'freemium' business model which means that newbies can get access to ALL the software at NO cost. This is in sharp contrast to Clickfunnels who charge $297 per month, and that's just for their funnel builder and affiliate marketing software, never mind anything else.

Affiliate marketers

With an affiliate marketplace, sales funnel builder, email management and more, affiliate marketers will find all the basic tools they need to run a successful affiliate marketing business. Since many of the Groove management team are affiliate marketers themselves they understand the unique challenges you face. Groove also has it's own affiliate marketing program so you can start making money even if you don't have a product to sell.

Digital marketing agencies

Create fast mobile responsive websites for your clients which they can host on their own free Groove account. Help them understand the full potential of Groove for their business and if they upgrade you'll earn a generous commission.

eCommerce, drop-shipping and POD businesses

Create unlimited eCommerce stores with up-sells, down-sells, cross-sells, discounts and more. GroovePay (their own in-house payment processor) also has some of the lowest payment processing fees around. By contrast, a Shopify store will set you back $79 per month + expensive processing fees.

Coaches and Consultants

Full customer management software for business coaches, health & fitness coaches, lifestyle consultants and educators. Create membership sites, email marketing campaigns, webinars, video hosting, sales funnels and more.
This is by no means an exhaustive list of who will benefit from Groove. Essentially anyone who runs, or hopes to run an online business, will find it invaluable.

What are the major benefits of Groove?
It's FREE!
Ok, so who doesn't like free stuff?
Well I guess it all depends doesn't it… A lot free stuff just isn't worth it.
So what about Groove?
As I mentioned previously Groove is based on a freemium model. This means there is a paid version (more on this under Groove.cm Pricing Plans), as well as a completely free unpaid version.
Originally the idea was to make the free version a greatly slimmed down version of the Pro plan with access to only a few of the apps.
However, when Covid hit and lots of people were struggling, the co-founder of Groove, Mike Filsaime wanted to do something to help people start an online business. He decided to do something crazy and make the free version available with ALL the same apps as the Pro plan.
The main difference between the free version and the Pro version is that the free version has certain limits that the Pro doesn't. So for example in the free version you can create just two websites, whereas in the Pro version it's an unlimited amount.
There are other differences too, such as if you become a Groove affiliate and sell the Groove software, then you'll get better commission rates if you are a Pro member as opposed to a free member.
Also, if you decide to sell products on GrooveAffiliate or GrooveKart and you sign up to GroovePay to process your payments, you'll get lower processing fees for being a Pro member than you would as a free member.
There are other limitations in the free version which I'll talk about another time when I discuss each app individually.
The free version is still quite powerful and has all you need to get started as an online entrepreneur, but once you get established (or if you already have a thriving online business) then you'll definitely want to consider upgrading to a paid plan. (More on this in a moment).
Tons of apps with only ONE log in
This is massive.
We all know what a pain it is to log in to different websites, whether that be your bank account, your facebook account, or your email account. It's a pain in the butt and it's time consuming.
And, as every internet entrepreneur knows, as your business expands you end up having to log in to more and more different platforms. I literally have a HUGE list of passwords, it's no fun.
When you have lots of different apps from different companies this where the trouble begins.
Not only do have to waste time logging in to all these different sites (that's if you can even remember the passwords), you also need to get these different apps to work together.
Sometimes they're just not compatible, sometimes you have to copy & paste API keys in just the right place, sometimes you have to upgrade and pay more money for a certain feature to make it all work.
AND…
Just when you think you've got it all sorted…
Something breaks!
This is where Groove excels, because there's only ONE password to remember. Not only that, but because all the apps are made by Groove, they all work together. You don't need to copy & paste API keys (unless of course you want to integrate Groove with non-Groove software apps).
Transparency
Unlike a lot of companies, Groove is a very customer focused, hands on company that likes to interact with their members. They chose the domain Groove.cm because, in the words of the co-founder Mike Filsaime, "cm means, Customers matter".
They regularly hold live training sessions to help you get the most out of Groove, and there's opportunity on the live sessions to ask questions and get problems resolved.
As well as the usual customer support, they also have a very active facebook community where you can get help and support from fellow users as well as from the Groove team themselves.
They also have a portal where you can report bugs or make suggestions. You can even vote on other people's suggestions and they can vote for yours. Some of the most popular suggestions get incorporated into the Groove software.
One of the things I always look forward to, is around every three months or so, they have a 3 to 4 hour live session called, "The state of the Groovion". It's hosted by the co-founder of Groove, Mike Filsaime. Since they are always making improvements to the platform it's basically an opportunity for them to bring you up to date with the latest developments and tell about their future plans.
The thing that I really like about these sessions is that they are live, you know it's live because things sometimes go wrong. But what's really good is that they love to get their customers involved. On the call you have opportunity to ask questions or make suggestions.
What I also love is Mike's candor. Things haven't always gone to plan at Groove and they've had a number of problems which have caused them to fall behind schedule. Mike doesn't try to cover these things up and he'll tell you exactly why things went wrong and what they have done (or are doing) to fix it.
Mike will also often present two or three options about a new feature they are considering and then ask you for your opinion. How many CEO's do that?… In fact how many CEO's even speak to their customers?…
There's a real feeling of community about this company and you get the feeling that they really are interested in their customers and want to help them succeed… Personally I find that quite refreshing.
Who owns Groove?
This Groove.cm review wouldn't be complete without talking about the people behind Groove.
Groove is owned by Co-founder Mike Filsaime along with a team of people who are passionate about helping others to create online businesses.
Mike has founded multiple software companies and is the man behind successful products such as Katra, WebinarJam, EverWebinar, and of course Groove.
However, Mike isn't just a software guy, he's also one of the top internet marketers in the world. In fact he was the 2nd marketer in history to do a $1 Million Launch and has he's done more $1m launches for more brands than any other marketer in history.
When you sign up for a Groove account, you aren't just getting some really great software. Through his regular live training updates you're also getting gold nuggets from Mike about various aspects of internet marketing.
That's not all, many of his team are also top marketers too and they also share valuable insights from their varied backgrounds.
Groove is the one of the few software companies that not only teaches you about their software, they also teach you how to create your own internet business. In fact in 2020 they hosted the longest live stream in the history of the internet. It was a full two weeks round the clock free training from some of the world's top internet marketers. The value they shared was incredible.
If you sign up for a Pro account you get access to all that training for free.
Groove have lots of really cool unique features that you won't find in other software apps, so if you're already using other software then it will be well worth checking out.
Groove Pricing Plans
If you already have an established online business you're probably paying monthly fees for various software applications. Lets say for example that you have a subscription to Clickfunnels. That's $297 per month, or $3564 per year, every year.
Now that's just for Clickfunnels, so lets suppose you also subscribe to ActiveCampaign for your emails. ActiveCampaign is $1548 per year for their most popular plan (with less than 5000 email contacts).
So for just your funnel software and your email campaign management alone, your paying over $5000 EVERY YEAR!
BUT…
What if for almost the same price as Clickfunnels you got not just a funnel builder, but also a website builder, email automation, an affiliate market place, an ecomm store builder, a membership site builder, video hosting, webinar hosting, and on… and on… and on…
In fact you get ALL ELEVEN current Groove apps for almost the same price as clickfunnels alone?
For the last couple of years, while Groove has been in beta, they were running a pretty amazing deal called the Platinum Lifetime deal where you could get full access to all the apps for a very low one-time payment. However, that deal has now ended for good so if you are hoping to get it now I'm afraid you've missed out.
Here's a comparison of their current price plans…
Which ever plan you choose this is EXCEPTIONAL value which could save you a small fortune.
Even if you only use a handful of those software apps, the potential savings over a lifetime could very easily run into hundreds of thousands of dollars!
The prices per month shown above apply if you pay up front for a whole year. If you want to pay month to month then the starter plan will be $119 per month and the pro plan $359 per month. Even so this is still a great deal considering what you get for your money.
Pros & Cons
Although Groove has a lot going for it, it's not perfect and like all software it does have some annoyances. I did say at the start of this Groove.cm review that I would be looking at the bad points as well as the good. So here goes…
Pros
Comprehensive FREE version to get newbies started with an online business
Loads of free templates to help you build webpages and sales funnels in minutes
Easy to use drag and drop elements, or design from scratch
Lots of software apps under just ONE login
Groove webpages load very fast, are SEO friendly, and are mobile responsive
Choice of either a Groove domain or your own custom domain names
Regular live workshops and updates from the Groove team
Thriving facebook community is very helpful
Feedback is encouraged to fix bugs or suggest improvements/new features
GroovePay payment processing is cheaper than paypal and others
Ability to sell your own courses and products on GrooveSell (bit like Clickbank marketplace)
Ability to import your product data from Shopify over to GrooveKart
Paid versions are still incredible value that could save you hundreds of thousands of dollars
Software is improving all the time
Cons
Groove is out of beta but they are still making changes
It can take a bit of getting used to again when they do an update or change things around
Some features such as GrooveMail have had problems which has slowed down the roll out
11 apps are available now but the full set may take a couple of years to come
GrooveBlog has just launched but only has one theme. Not many bells and whistles
The company had spread itself too thin by focusing on too many projects at once
Because Groove is changing so fast most of the info on the internet about Groove is out of date
Branding is a bit dull – not to everyone's taste
To be fair to Groove some of the issues weren't entirely their own fault. In addition they have also recognised their failings and have addressed some of the problems I've just pointed out here.
For example, when GrooveMail first launched it had few limits and was very popular. Unfortunately there were a lot of unscrupulous people who took advantage of this and used it to send out tons of spam. Due to this, Groove's email servers were blacklisted and they had to suspend GrooveMail for many months.
However, the good news is that Groove took action to clean their email IP's and GrooveMail is now back up and running again.
My experience is that they generally take longer to implement things than what they say. One of the reasons for this, which they now freely admit themselves, is that they were concentrating too much on quantity (lots of apps) rather than quality.
Fortunately they realised the problem and changed their thinking. From now on they say they will only release new apps when they are good to go.
I have noticed big improvements recently in the webpage and funnel builder, which has made it easier to create pages. There are also some other new features which make it easier to create subdomains so that you can still host existing content elsewhere and then create a subdomain in Groove to post new content on.
My honest opinion
Groove isn't perfect but it has come a very long way over the last two years. In my opening brief I gave it only three stars for stability. This is because they were making constant improvements and at times it meant re-learning how to use certain aspects of the software and at other times it became a bit buggy.
To be fair, Groove have ironed out most of the major issues and that's obviously why they now feel it's the right time to bring the software out of beta mode, so I probably should upgrade my stability rating to four stars.
Would I recommend it?
If you run any kind of business or you intend to make money online then you will almost certainly find a use for at least one of the Groove apps. If nothing else it's worth signing up for the free account to check it out and see what it might be able to do for you. Not only that you'll be able to join the Groove community where you'll get inspiration for business or money making ideas that you never even thought of. It could even spark a whole new career for you, as it already has for some Groove members.
If you are already established elsewhere such as on Clickfunnels or Karta, then Groove is definitely worth buying. For the money you'll save in the long run, even if you don't change all your business over to Groove straight away, it will be well worth it.
Speaking personally, I'm slowly moving more and more of my business over to Groove. The webpage builder and the funnel builder are both excellent, and shortly I'll be moving my emails over to Groovemail.
On the other hand, this blog is still hosted on WordPress. I did look at GrooveBlog, but as GrooveBlog was launched literally only towards the end of 2021, it's still very basic compared to WordPress. I'm sure it will improve over time.
However, if you are just wanting a simple blog builder that's easy to use, then GrooveBlog might be exactly what you're looking for. WordPress is quite bloated and clunky for a newbie, whereas GrooveBlog is quite simple in comparison. You also don't need to pay hosting fees with GrooveBlog like you would with WordPress, so you could have a completely free blog site with no hosting fees, and if you use a Groove domain, no domain name fees either.
I also set up a store on GrooveKart (their eComm store builder) and I'm reasonably impressed with that, but due to other commitments I've not quite finished it yet. Groovekart is definitely worth it if you run an eComm store. Not only is their in-house payment processor cheaper than just about anyone else, but their shopping cart has features that are completely unique. Due to Mike Filsaime's marketing background, his carts are guaranteed to increase sales orders like no other eComm platform can.
Last summer Groove also gave a NINE day presentation to showcase the latest developments. I had to update this Groove.cm review almost hourly as they revealed new features and bug fixes. Since I joined Groove in 2020 there have been some MASSIVE improvements, and most of those have happened in just the last six months.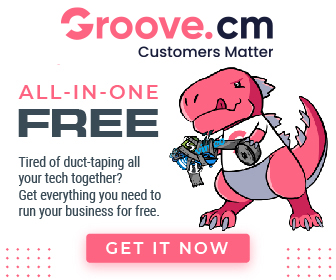 Final thoughts
I'm literally blown away by what they are doing at Groove. They are looking at all their main competitors for each app and saying, "How can we make this better?".
The webpage and funnel builder (GroovePages and Groovefunnels) is the best I've seen with features that no one else has. The same can also be said for GrooveKart, and they haven't even started yet on where they want to take the Groove software.
On some of the apps, they've started to introduce mini wizards to guide you through the various things you need to do to set them up. This is a great idea because then you know exactly what you need to do next instead of guessing.
If you're a marketer who does live webinars one really cool feature you'll love is the Demo mode. This allows you to log into your Groove account and show your audience things WITHOUT the risk of revealing the personal data of your customers or members.
Because Groove has so many apps, in a few years time EVERYONE who is serious about internet marketing will have heard of Groove and many will have switched over to them. Why wouldn't they when they can get 17 (or more) apps for the price of one, and all 17 are better than what other software companies are doing?
So even if you are already established elsewhere, then the Groove Pro plan is still worth your serious consideration. Even if you buy it and only use a couple of apps to start with, you'll still save a ton of money in the long run.
If you're a complete newbie you should definitely go for it too, especially when you can get started for nothing with the free Groove plan. First of all you get a ton of software for free. You're not going to use it all just yet but the basics will be enough to get you going. Secondly, by the time you do need to use the other apps you'll already be familiar with the setup so you won't need to learn everything from scratch again. This is huge time saver.
As I mentioned at the start, I bought the Platinum Lifetime deal (no longer available) because I do believe that Groove is here to stay and they're going to be big. They already have over half a million customers and as the software improves that number is only going to snowball.
I think now that Groove have seen the need to focus on the core apps and get them up to full speed, Groove will make some big leaps forward. In a couple of years time they're going to be a MAJOR internet marketing brand and a lot of the competition are already running scared.
If you want to get in at the start of something really big, now is the time to do it!
I'm hoping to add a review of each individual Groove app when I get some time, but in the meantime if you found this Groove.cm review useful then please consider sharing it.